Food
[Local Eateries] Samgyetang, noodles and steamed chicken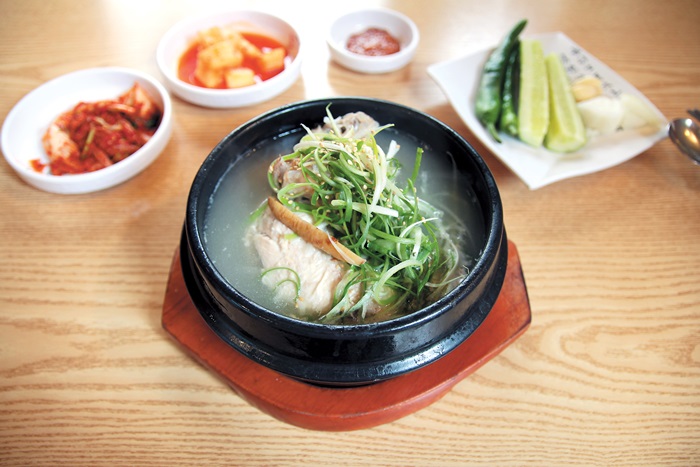 Boknal, otherwise known as the "dog days," are traditionally the three hottest days of the year and the time when, almost as a rule, Koreans eat healthy dishes of chicken. The most traditional dish is samgyetang, which is a meal made by boiling a chicken with ginseng, rice, chestnuts, jujubes and garlic inside it.
For a long time, samgyetang was the food item of choice for oppressive summer days. The soup has long been lauded for its ability to recover energy. Even in the face of a blazing-hot summer, one bowl of samgyetang can be all that you need to carry on.
Modern culture and life, however, change. Samgyetang must now compete with other foods favored by the younger generation, who have grown up with more choice than ever before. One thing that has not changed, though, is that Boknal remains the time to indulge in chicken and beat the heat. Thankfully, Busan provides a mix of old and new-style dog-day foods that go beyond tried and true traditions.
This year, the first two dog days were on July 12 and July 22. The last one is on Aug. 11. There's no shortage of fabulous places to get diverse tastes of chicken in Busan, so in preparation for the final day of boknal, here are some of the best.
Jinmiwon (진미원)
The first establishment is found in Yeonsan-dong (neighborhood). Walking through Yeonsan intersection, you'll come across a restaurant with a beautiful green garden, a perfect setting before a fine meal. At Jinmiwon, the chicken is tender, chewy and makes full use of all the delicious ingredients that go into the soup. The restaurant also roasts its own salt on the premises with healthy ingredients and then serves it to you for you to dip the chicken into. This makes the meat even more flavorful.
In addition to the chicken, the broth is what really makes samgyetang shine. It contains a wide assortment of flavors that combine to make samgeytang something to look forward to, even if it isn't the middle of boknal. The boiling soup also serves the purpose of helping to tenderize the chicken, which is why the meat falls off the bones so effortlessly.
Samgyetang can be enjoyed with sides of kimchi, kkakdugi (cubed radish kimchi), raw cucumber and chill peppers served on the side. Kimchi in particular serves as a perfect companion to the soup since it is cold and spicy, while samgyetang is served hot and mild.
Jinmiwon serves samgyetang exclusively for 14,000 won with a bottle of homemade ginseng wine per table. The wine is not automatically served, so you will need to inform the staff that you want it. You will then get the wine as part of your meal. If you want more wine after that, then ordering extra will run you 2,000 won per bottle.
▶ Address: 8, World cup-daero 120 beon-gil, Yeonje-gu, Busan
▶ Hours: 11 a.m. to 9 p.m.
▶ How to get there: Yeonsan Station (Metro line 3) exit 6. Go straight for three minutes and turn left.
Wonganae (원가네)
Close to the entrance of the Busan Children's Grand Park is a restaurant with a long history. Wonganae dates back to 1941 and has been cooking scrumptious meals for three generations. Chicken noodles in broth made with anchovies, mushrooms, green onions and radish are a blend of flavor and texture not to be missed.
The noodles are also bound to reinvigorate you in a battle against the heat. With multiple generations and over 70 years of experience, it stands to reason that Wonganae certainly knows what it's doing.
A bowl of noodles costs 10,000 won. As an added bonus, the Busan Children's Grand Park nearby gives you a chance to enjoy a post-meal stroll (which is free).
▶ Address: 10, Choeupcheon-ro 108 beon-gil, Busanjin-gu, Busan
▶ Hours: 1130 a.m. to 830 p.m
▶ How to get there: Seomyeon Station (Metro line 1), exit 13. Take buses 56, 81 or 133. Get off at Busan Children's Grand Park stop.
Dunamja Jim Dak (두남자찜닭)
If you like cheese, then Dunamja Jim Dak is what you're looking for. Jjim dak (steamed chicken) is a soy sauce-based dish cooked with potatoes, sweet potatoes, rice cake and glass noodles. Shredded cheese is an optional topping, but it could complete the mouth-watering meal to provide an extraordinary taste if you choose to order it.
You can decide between a soy sauce base or a sauce based with gochujang (red pepper paste) and to have your chicken bone-in or boneless. The food can be served mild, mild spicy or spicy. Whatever your choice, a side of dumplings is recommended.
One half order with bones costs 19,000 won. Don't overdo it with the main meal, because Dunamja Jim Dak serves a small bowl of ice cream for dessert.
▶ Address: 38, Jungang-daero 680 beonga-gil, Busanjin-gu, Busan
▶ Hours: 11 a.m. to 10:30 p.m.
▶ How to get there: Seomyeon Station (Metro line 1), exit 2. Go straight and turn to the left around Olive Young.