Food
Go festival-hopping with these delicious pitstops
There are innumerable festivals occurring in May, so don't forget to slow down and fill yourself up as you take in the sights and sounds! Where there are festivals, there are restaurants. So, listen to your stomach growl, and let the following establishments do the rest!
■ Beef in Haeundae-gu (district)
Geumsuga (금수가 한우구이)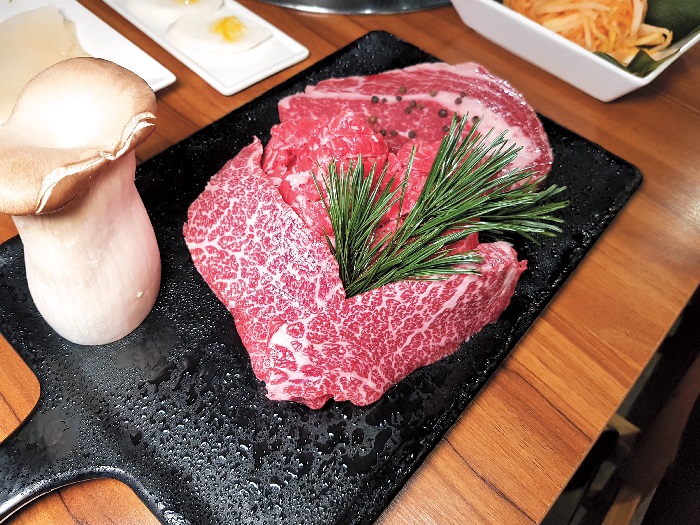 Marine City's colorful skyscrapers are a pleasant walk away from Haeundae Beach, and that makes this part of town one of the best places to visit after a trip to the Haeundae Sand Festival (May 24 to 27). Although Marine City features a glut of delicious places to eat, Geumsuga is gaining in popularity. With a clean exterior, a history of 25 years and, most importantly, a tasty menu, this restaurant attracts Koreans and foreigners alike.
Geumsuga specializes in grilled Korean beef, but its set menu is what makes it famous. This menu serves you with one main dish of galchi-jorim (braised cutlassfish) and various side dishes such as kimchi, buchu jeon (chive pancake) and japchae (glass noodles stir-fried with meat and vegetables). Of course, rice remains a staple dish, and it's possible to get boiled rice made in a cast-iron bowl, which is both tasty and good for your health. Prices range, depending on the set menu you choose The Korean set menu is 13,000 won. Sogogi gukbap (boiled beef soup) and 100 grams of Korean beef sirloin and rib will run you 30,000 won. For 400 grams of assorted Korean beef, expect to pay 120,000 won. Naengmyeon (Korean cold noodles) is 8,000 won.
Address 37, Marine city 3-ro, Haeundae-gu, Busan
Phone 051-915-9282
Hours 9 a.m. to midnight, weekdays; 8 a.m. to midnight, weekends.
■Goat bulgogi in Geumjeong-gu
Sanseongjib (산성집 흑염소 불고기)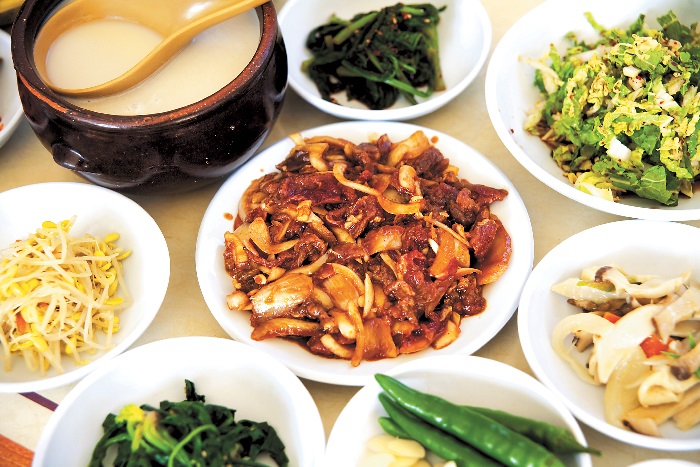 Geumjeongsanseong Fortress is a favorite destination for company workshops and dinners. Since the fortress will hold its own festival on May 24 through 26, you can go to Sanseongjib for something you may not be familiar with black goat bulgogi. Bulgogi is a famous and common food in Korea, the name of which literally means "fire meat." It is made of thinly sliced meat marinated in delicious and flavorful soy-based sauce.
While bulgogi itself is common, it is not so common when it comes to goat meat. That being said, black goat bulgogi was selected as one of the top 10 local foods by Busan, and it has a long history. In the past, locals would raise black goats around the fortress and would make makgeolli (traditional Korean rice wine). During the 1960s, however, the government implemented a new policy to cut down on the expenses of rice and prohibited the manufacturing of makgeolli. Because of this, the locals developed the sale of black goat bulgogi, in order to replace their lost business. Mountain climbers from all over the country fell in love with the taste, and the bulgogi began to grow in popularity. As an added bonus, it is believed that goat meat is good for relieving fatigue.
If this sounds intriguing, there are about 120 goat bulgogi restaurants around the fortress, but one of the best places to visit is Sanseongjib. At Sanseongjib, the bulgogi marinade is made with gochujang (red pepper paste), soju, pear juice and other creative ingredients. The meat is grilled on a charcoal fire. If goat isn't for you, duck bulgogi, as well as boiled duck with rice are also options. The black goat bulgogi costs 35,000 won for 300 grams. The duck bulgogi charges 40,000 won for 600 grams and the boiled duck with rice will run you 40,000 won.
Address 524, Sanseong-ro, Geumjeong-gu, Busan
Phone 051-517-5546
Hours 9 a.m. to 10 p.m., daily
Grilled sea eel in Jung-gu

■ Seongiljib (성일집 곰장어구이)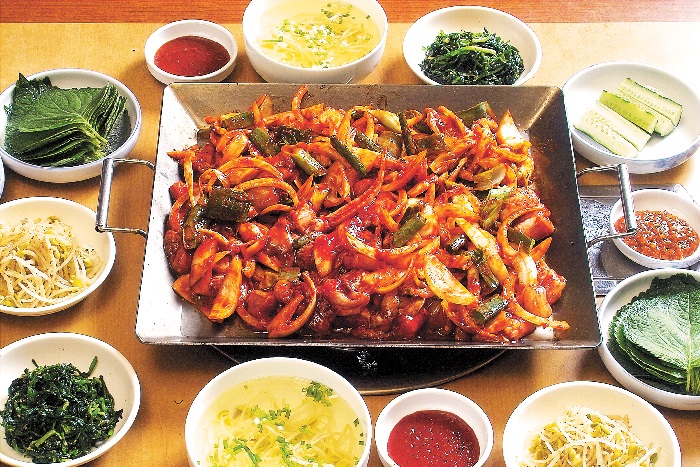 Specializing in grilled sea eel, Seongiljib dates back to the Korean War and is located around Lotte Department Store in Gwangbok-dong (neighborhood). It was frequented by numerous City Hall employees when City Hall was in Gwangbok-dong. During the Korean War, Seongiljib's original owner was evacuated to Busan, where she decided to open the restaurant in order to raise her sons and daughters. Now, the restaurant is so famous that even celebrity actors and singers visit it.
Eels on Seongiljib's menus are roasted with salt and sauce. The establishment's sauce is made with over 20 medicinal herbs that contain no artificial flavors. The spicy sauce is a good idea if you're feeling particularly adventurous. Seongiljib's sea eels are fished in domestic waters. One plate costs 15,000 won, but there is a minimum of two plates, so you should bring a friend.
Address 103, Daegyo-ro, Jung-gu, Busan
Phone 051-463-5888
Hours 11 a.m. to 11 p.m., daily