Enjoy Busan
In the heat of the night, nothing can beat Busan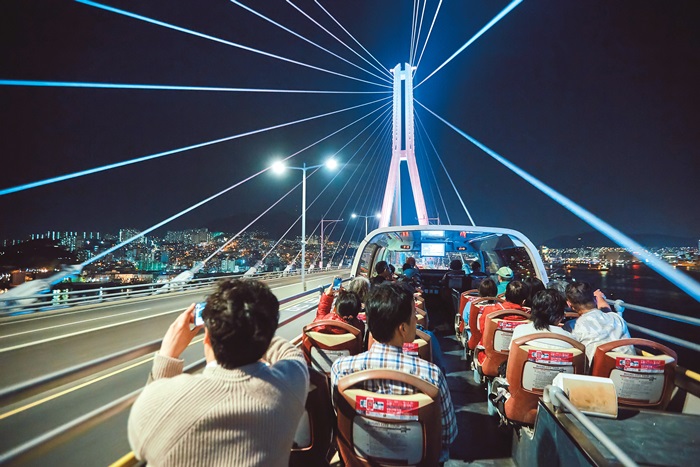 - 출처 및 제공 : Seonghoon Kwon
Winter may have arrived for Westeros in the recently-completed "Game of Thrones" television series, but here in Busan, summer is coming.
Summer nights in Busan can be even more enjoyable than tanning on the beach in the middle of the day. The weather is not as hot as it is in the afternoon, and there are always people out and about having a good time. With the height of Busan's tourist season approaching, here are some things to check out this summer:
All aboard the night bus!
What better way to see Busan than on the top of a double-decker bus? Haeundae, Gwangalli, Taejongdae Park and Yonggungsa Temple are all on the docket as you take in the sights Busan has to offer. Beginning at 7:30 p.m at Busan Station, the tour takes you to colorful Busandaegyo Bridge. After that, it's onwards toward Busan Port and the sands of Gwangalli Beach. Of course, the bus stops by the coastal road for a photo session.
The next stop is Marine City, which boasts some of the most spectacular night views the city has to offer. Haeundae Beach is a short distance away, so visitors will have the opportunity to go to one of Busan's most popular vacation destinations and are welcome to remain there if they don't want to go back to Busan Station.
Overall, the bus tour is two-and-a-half hours. After exploring Busan on foot by day, the night tour bus is a wonderful way to see the city once more in a different and more laid-back manner. While summer in Busan can get to be scorching hot, the evenings are, more often than not, quite pleasant. So, don't be afraid to sit on top of the bus's roof and enjoy the lovely night air, because the natural breeze of Busan's refreshing evenings will cool you down.
The bus ride is 15,000 won for adults and 8,000 won for those not yet in high school. You may reserve up to 10 days before your tour, but Mondays are off-days.
▷ Reservation: 051-464-9898; visit citytourbusan.com. English, Japanese and Korean available.
▷ How to get there: Busan Station (Metro line 1), exit 6.
That tour was fun! Now what?
The night is just getting started! Performances, drinks and even more night views await the rest of your evening.
■ Busan Cinema Center: Outdoor Concerts & Movie Screenings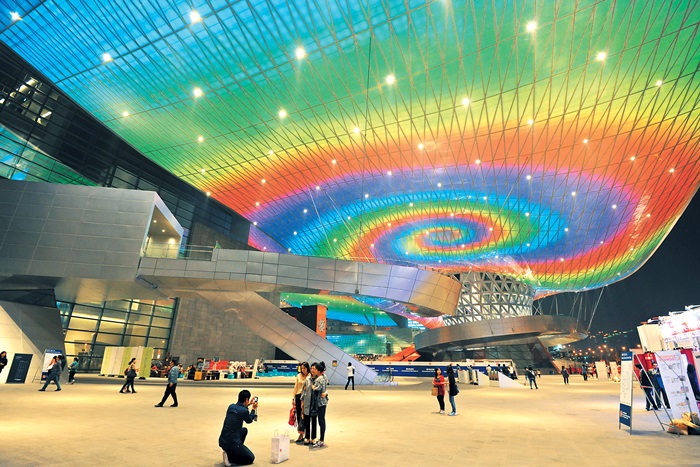 The Busan Cinema Center runs a Saturday outdoor concert series until September. Visitors can go to a show with their friends, family and significant others and may bring drinks and snacks with them.
The Dureraum Wind Orchestra, which is the main program, performed on June 1 and will continue on July 6 and Aug. 3. Dongnae crane dances, a local traditional performance art, will be held on June 15 and Aug. 17. Concerts also include Asian folk dance performances on July 13, a German brassonanz ensemble consisting of 12 brass performers on Aug. 10 and "The Cameraman," a Buster Keaton silent movie with live accompaniment on Aug. 24. Aug. 31 will see an all-female choir perform. Best of all, performances are free. Everything begins at 5 p.m., except for the Keaton movie on Aug. 24, which will begin at 8 p.m.
▷ How to get there: Centum City Station (Metro line 2), exit 12. Go straight and turn right to go around Shinsegae Department Store. The Busan Cinema Center is ahead.
■ Dongbaekseom Island and The Bay 101

- 출처 및 제공 : Michael Kazemi
If a fancy and modern atmosphere is what you're looking for, then Haeundae is the place to go. One of the fanciest places to visit is The Bay 101. Located at the entrance of Dongbaekseom Island, this luxury establishment lets customers participate in enjoy various marine leisure sports such as yachting, kayaking and surfing. Additionally, The Bay 101 boasts colorful night views and provides a mix of city and sea.
If you go to The Bay 101 for the view, then you can stay for the food and drinks. Delicious things to eat, as well as coffee and beer, are all readily available on the premises.
▷ How to get there: Dongbaek Station (Metro line 2), exit 1. Go straight for 440 meters. Cross the intersection and the bridge.
▷ Phone: 051-726-8823
■ Dadaepo Sunset Fountain of Dreams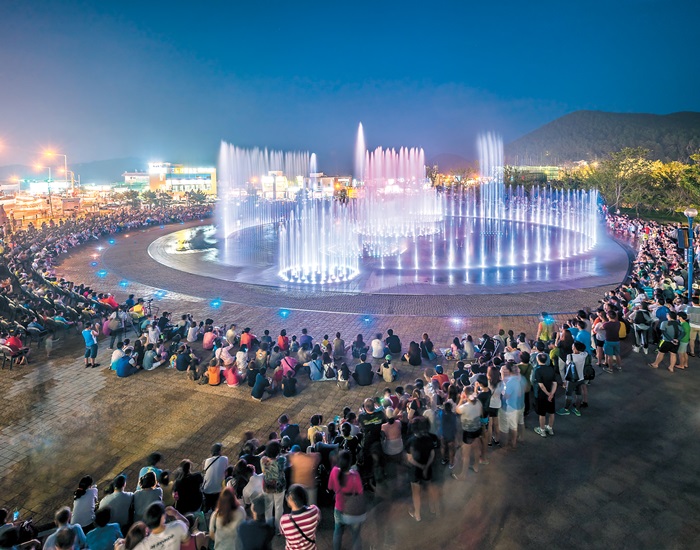 - 출처 및 제공 : Michael Kazemi
If the eastern part of town isn't for you, then there is plenty for you to do out west. One place that is worth a visit is Busan's famous Dadaepo Beach. This place turns into one of the most beautiful locations in all of Korea, due to the Dadaepo Sunset Fountain of Dreams. The marvelous fountain has an area of 7,731 square meters, a diameter of 60 meters, a circumference of 180 meters, a flood area of 2,519 square meters and a maximum water depth of 55 meters. It is the largest fountain of its kind in the world and is even listed in the "Guinness Book of World Records." The Dadaepo Sunset Fountain of Dreams features a musical show in the evening, which, mixed with the way the fountain moves, is one of Busan's loveliest tourist spots to visit. It is also one of Busan's most popular attractions. The fountain operates until October 31.
▷ How to get there: Dadaepo Station (Metro line 1), exit 4.
▷ Fountain performance hours: 8 p.m. weekdays, 8 and 9 p.m. weekends and public holidays through August; 7:30 p.m. weekdays, 7:30 and 8:30 p.m. weekends and public holidays in September and October.