Enjoy Busan
Spring to life this season with an abundance of festivals
Your guide to Busan's May festival
■ Lotus Lantern Festival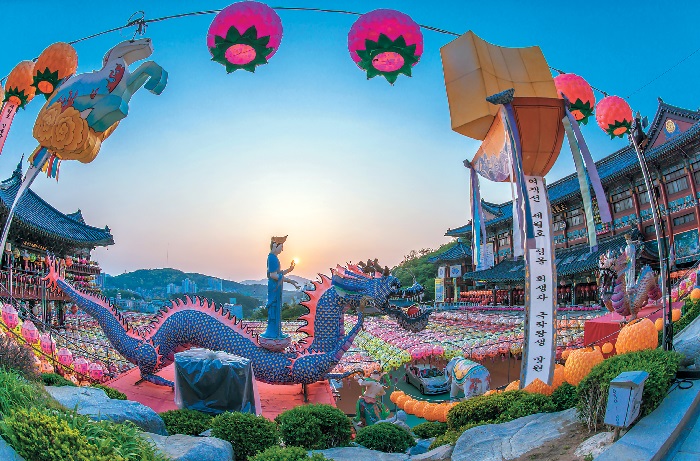 Busan's spring festival season opens with the Lotus Lantern Festival (May 1 to 12). This festival, held to celebrate Buddha's birthday, is famous for the traditional lanterns you can see all over Busan. The heart of the festival, however, will be at Songsanghyeon Square. Additionally, Busan Citizens Park will hold two Buddhist festivals in order to celebrate Buddha's birthday and, on May 4, to pray for harmony and prosperity. There will also be a parade from Bujeon Market to Seomyeon at 730 p.m.
Samgwangsa Temple is also a spectacular sight to see during this time. the temple is covered with so many colorful lanterns (approximately 50,000), that it is difficult to see the structure beneath them all. For this reason, news giant CNN declared Samgwangsa Temple to be one of Korea's 50 best spots to visit.
How to get there
▷Busan Citizens Park Seomyeon Station (Metro line 1), exit 7. Take bus 33 from Lotte Department Store stop. Get off at Busan Citizens Park stop.
▷Songsanghyeon Square Bujeon Station (Metro line 1), exit 8.
▷Samgwangsa Temple Seomyeon Station (Metro line 1 and 2). Take village bus 16 from the opposite side of Lotte Department Store. Get off at Samgwangsa Temple stop.
■ Nakdong River Guponaru Festival
This festival will be held around Hwamyeong Eco Park on May 17 through 19. Gupo is downstream on the Nakdonggang River and was once one of the city's largest trading centers. The festival is a culture and tourism festival that supports the values of history, tradition and culture by reenacting the lives of the people who lived on and with the river. Programs will include a folk village and its traditional market, as well as an event where visitors can enjoy wheat berries, taste Gupo noodles and sail boats. Aquatic performances will dazzle audiences, and people will be able to make use of the art market.
How to get there Sujeong Station (Metro line 2), exit 3. Go straight ahead for 15 minutes.
Information guponarufes.co.kr
■ Haeundae Sand Festival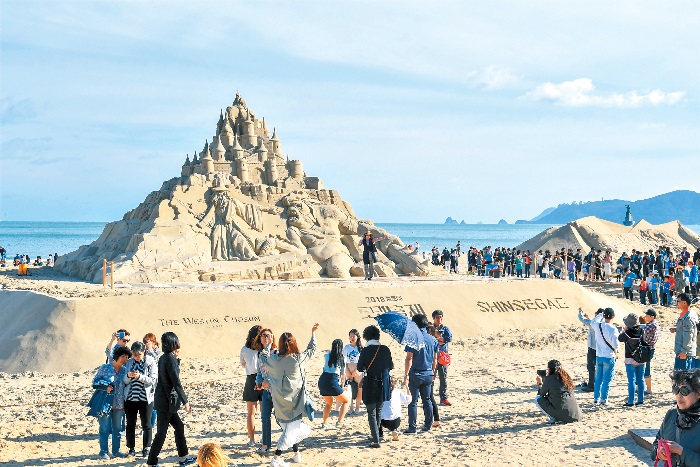 The Haeundae Sand Festival will be held at Haeundae Beach and Gunam-ro (street) from May 24 to 27. A total of 11 teams consisting of 14 sand sculptors will participate in the festival this year, and they will produce sand sculptures under the theme, "Music, Meet the Sand!" This festival will include numerous activities involving sand, such as a treasure hunt, a playground, sandcastle-destroying, speed-sand-sculpture-makingandsandboarding.Several music acts will be there to please your eyes and ears and get you moving, like 8090 EDM Party (May 24 at 8 p.m.), the BewhY and Kingston Rudieska (May 25 at 630 p.m.) and the show choir group Harmonize (May 26 at 7 p.m.).
For those looking for some action, a water-gun survival game that gets more popular every year will be held at Haeundae Plaza on May 25 and 26 at 1 p.m. Registration for the game is on a first-come-first-served basis. Water guns and raincoats will be provided. Some of the activities will be charged, and payment by card will be available.
How to get there Haeundae Station (Metro line 2), exit 3 or 5. Go straight for 5 minutes.
■ Busan Port Festival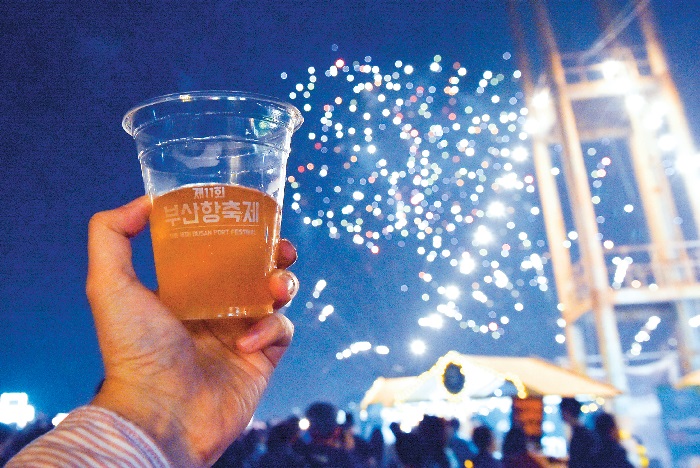 This year marks the 12th Busan Port Festival, which is held around the Busan Port International Passenger Terminal and Korea National Maritime Museum. This event includes a variety of programs such as tours of the port, marine leisure activities on yachts, motor boats and kayaks and large vessels, which will provide a thrilling way for visitors to enjoy the sea they've come to know.
The opening ceremony will be held at the international terminal at 730 p.m. and will get things rocking with celebrity singers and a media facade show. An 18-minute fireworks spectacle beginning at 9 p.m. will kick things off with a bang. If you are unable to directly visit the festival, the mountainside road of Yeongju-dong (neighborhood) and the area behind Busan Station are good places to see the fireworks.
The beer garden, stylized for this event with the German `Bier Garten,' will be held at the outdoor parking lot of the international terminal from 10 a.m. to 10 p.m. on Saturday and Sunday, May 25 and 26. Six craft beer manufacturers and local food trucks will participate. In addition, the festival will feature a special food contest in cooperation with Busan's sister cities, which will allow visitors to enjoy various foreign dishes.
How to get there Busan Station (Metro line 1), exit 4. Take the shuttle bus of the international terminal.
■ Geumjeongsanseong Fortress Festival
The Geumjeongsanseong Fortress Festival will be heldaroundGeumjeongsanseongFortressand Oncheoncheon Stream on May 24 through 26. The fortress stretches about 18, 845 meters, making it one of the longest fortresses in the country. The walking course begins at the fortress plaza at 9 a.m. on May 25. At the end of the walk, visitors will return to the plaza after passing through the north and the east gates. A similar one-hour walk will be organized for 830 p.m. on May 25.
This festival will also have programs such as a concert on May 25 at 730 p.m., a writing contest on May 25 at 11 a.m. and a drawing contest on May 26 at 10 a.m.
Meanwhile, the event hall at Oncheoncheon Stream will feature a Geumjeongsanseong Fortress-themed village. There, visitors will be able to take part in various culture programs such as making hopae (identification tags carried by citizens of the Joseon Dynasty), history lessons, making rice cake and building fortress walls.
How to get there Oncheonjang Station (Metro line 1), exit 3. Take bus 204 at the other side of the exit. Get off at Gonghae Village (공해마을) stop.
Information geumjeong.go.kr/festival

■ Busan Alleyway Festival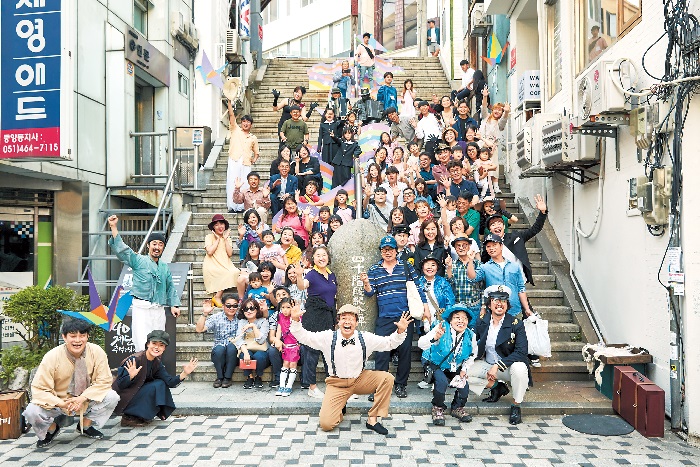 This festival will be celebrated around Jung-gu (district), Seo-gu, Dong-gu and Yeongdo-gu for two days on May 25 and 26. This particular event will feature performances and history tours, flea markets and alleyway escape games. Since the winding alleys can make for a complex maze, the area presents a fun opportunity for such activities. There will be information desks in the four districts that will provide visitors with local specialties as gifts when they finish all the games.
Also in Yeongdo-gu, a walking festival will be held from Gamji Haebyeon Beach at 10 a.m. on May 25. This is a course that passes through all four districts. From the beach, participants will go through locations of the original city centers such as Huinnyeoul CoastalTunnel,NamhangdaegyoBridge,Songdo Alleyway, Cheonmasan-ro Scenic Road and the 40 and 168 Stairs for a 19-kilometer course. Later, you can see the four districts by bus, to rest your weary feet. Additional events such as busking performances and stamp missions will be included.
It will be 5,000 won per person to participate. You can apply through the Busan Culture and Tourism Festival Organizing Committee until May 10.
Apply 051-1811-9394
Information bfo.or.kr
■ Centum Beer Festival
This annual event to quench your thirst returns to KNN Tower Square on May 31. 12,000 won is all you need for an all-you-can-drink experience that will be accompanied by several performances. Of course, minors should be in the care of their guardians. It should be noted that the 12,000 won price does not include snacks and foods, which will be paid for separately.
How to get there Centum City Station (Metro line 2), exit 6. Go straight to the KNN broadcasting station.
Information beerfestival.co.kr
Thousands of lanterns cover Samgwangsa Temple (top); sparks fly at the Busan Port Festival with fireworks and craft beer (bottom).