Enjoy Busan
Busan's history alive and well in festivals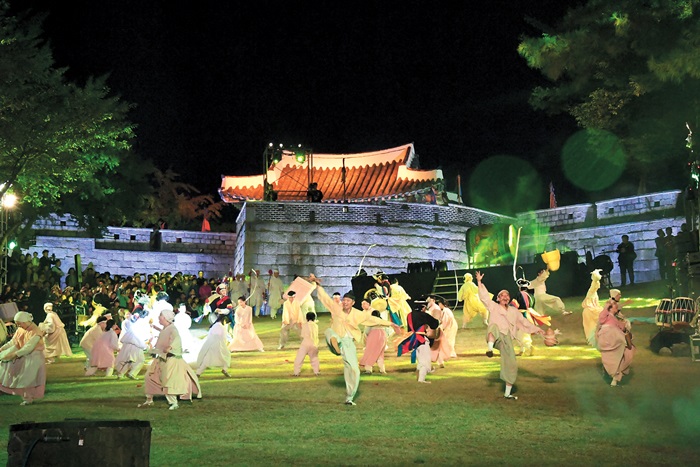 (Picture : Visitors to the Dongnae Eupseong History Festival will be able to watch musical performances and will learn about Korea's daily way of life during the Joseon Dynasty.)
It's hard to keep track of all the festivals and events in Busan. Whether it's the beginning of spring, the middle of summer or the end of autumn, there's no shortage of things to get up to. Read on as we guide you through upcoming events of October and November!
LaLaLa Festival
The LaLaLa Festival employs a colorful name and is a time to enjoy delicious treats and coffee.
It will be organized by 40 different restaurants, cafes and workshops in Geumjeong-gu (district).
During the LaLaLa Festival, which runs from Oct. 4 to 6, participating cafes will give discounts for coffee, bread and desserts. Visitors will be able to go to numerous booths operated by artists selling all kinds of accessories, woodcrafts and other handmade goods. There will also be classes on baking and brewing coffee.
▷ How to get there : Pusan National University Station (Metro line 1). Go down to Oncheoncheon Stream.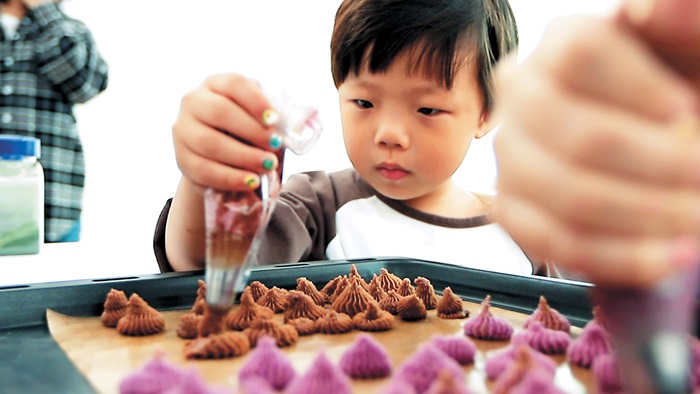 (Picture : A child takes a cooking class at Lalala Festival.)
Jagalchi Festival
One thing many can agree on is that Busan has great seafood. Jagalchi Market is the place to go for it any time of year, but this rings most true during the Jagalchi Festival.
From Oct. 10 to 14, visitors will have the chance to enjoy seafood right by the sea. Make sure to catch the parade and fireworks show, in addition to the world's largest sliced hoe (Korean raw fish) bibimbap that will serve up to 2,800 people!
▷ How to get there : Nampo or Jagalchi Station (Metro line 1), exit 2 and 10, respectively.

(Picture : Last year, the world's largest bibimbap served "only" 2,700 people.)
Busan Mackerel Festival
The Busan Mackerel Festival is a celebration of the city's representative fish.
Between Oct. 25 and 27, Songdo Beach will play host to the festival in association with the Busan Cooperative Fish Market, which sells more than 90 percent of Korean mackerel.
During the festival, the beach will open booths where visitors can eat a wide variety of mackerel dishes, whether baked with seasoning or totally raw. There will, undoubtedly, be much more for citizens and festival-goers to experience, as well.
▷ How to get there : Jagalchi Station (Metro line 2), exit 2. Take bus 6, 26, 30 or 96. Get off at Songdo Beach stop.

(Picture : Children compete to catch mackerel with their bare hands.)
Dongnae Eupseong History Festival
The Dongnae Eupseong History Festival, stretching from Oct. 11 to 13, will be the opportunity to see what Dongnae looked like during the Joseon Dynasty.
The festival will organize a parade to remember the battle held in the area during the 1592 invasion of Korea by Japan. Working together with Dongnae Halmae Pajeon, which has operated for four generations, the Dongnae Eupseong History Festival will serve visitors delicious Dongnae pajeon (green onion pancake). To complete the historical atmosphere, you can wear traditional Korean clothing by taking advantage of the nearby hanbok experience center.
▷ How to get there : Dongnae Station (Metro line 1), exit 4. Take the shuttle bus that goes to Bokcheon Museum every twenty minutes; Oncheonjang Station (Metro line 1), exit 1. Take the shuttle bus that goes to the Dongnae Cultural Center every thirty minutes; Myeongjang Station (Metro line 1), exit 3. Take the shuttle bus that goes to the Dongnae Cultural Center every twenty minutes.
Busan Chinatown Culture Festival
The Busan Chinatown Culture Festival will be held in Choryang-dong (neighborhood) from Oct. 18 through 20. The history of Busan's Chinatown goes back to the Joseon Dynasty. In 1884, China, then under the Qing Dynasty, established a consulate in the neighborhood. This led to an influx of Chinese people in Busan, and they eventually created what is now Chinatown. In 1993, Busan established a sister city relationship with Shanghai and set up the Sanghaemun (Shanghai gate).
The festival will kick things off with a parade and a lighting ceremony at 5 p.m. on Oct. 18. Chinese traditional performances will occur throughout the festival. Be sure to catch these amazing events, because there will be fire shows, juggling, traditional musical instruments and much more for everyone to enjoy.
The festival also plans to hold an event for visitors to dress in Chinese traditional clothing and experience handcrafts and non-permanent tattoo work. You'll also be able to try delicious Chinese-style grilled lamb skewers, kebabs and malatang. Food is generally charged, but there will be some free tasting opportunities.
▷ How to get there : Busan Station (Metro line 1), exit 1.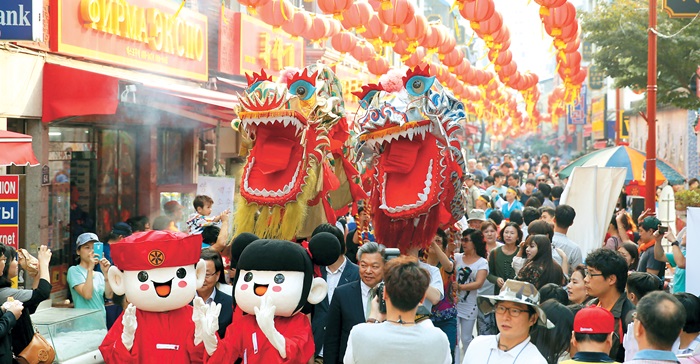 (Picture : Parades and shows in the Busan Chinatown Culture Festival.)
Yeongdo Bridge Festival
The Yeongdo Bridge Festival is an important event in Busan.
Held in memory of the way Yeongdo Bridge helped refugees during the Korean War, the structure has a long history. It was opened as Busan's first mainland-to-island bridge in 1934 and is a symbol of both joy and sorrow. It became known as a point of departure for refugees who had to part from their loved ones but also as a meeting point for reunification between those same people.
The festival will kick off with a 20-minute fireworks display at 9 p.m. on Oct. 11. Many events and programs are planned for visitors, and there will be a photo exhibition displaying old photos of the bridge and city.
▷ How to get there : Nampo Station (Metro line 1), exit 8. Go straight for five minutes.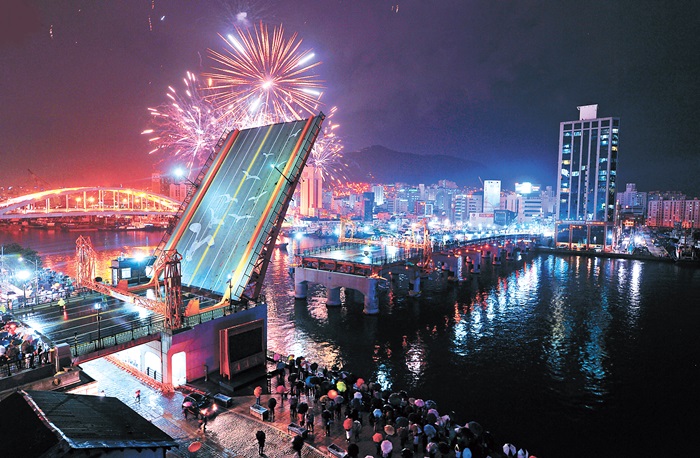 (Picture : Fireworks go off at the Yeongdo Bridge Festival.)
Bosu Book Street Festival
Another festival dealing with the time when Busan was Korea's temporary capital during the Korean War is the Bosu Book Street Festival.
From Oct. 18 to 20, visitors can go to the only bookstore alley of its kind in Korea for the annual festival that takes place there. The history of the street goes back to the Korean War. A couple of refugees from North Korea sold magazines, comics and old books from the United States military. As many students and intellectuals who did not have enough money to buy books wanted to do so, the street eventually formed due to their desire to learn.
At one point, the alley faced closure due to the growth of larger bookstores and the Internet boom, but it avoided this fate through those who love its history and culture. The festival has been ongoing since 2005, in order to promote the street. If you are a book collector, this is the perfect festival for you!
▷ How to get there : Jagalchi Station (Metro line 1), exit 3. Go to the intersection of Daecheong-ro through Gukje Market.