Enjoy Busan
Busan's seven beaches alive for summer season: Songjeong, Dadaepo, Songdo and others
Busan's seven beaches alive for summer season
: Songjeong, Dadaepo, Songdo and others
Songjeong
Close to Haeundae, yet so quiet in compa-rison, Songjeong is writing itself a new history as Busan's surfing capital. Surfers are constantly crisscrossing the waters, which provide the perfect conditions for beginners. The shallow water and sandy ocean floor make for a safe place for newbies. Build skills while waves roll in from both from the East and
South Seas. With a surfing school and rental shops lining the beach, Songjeong is the place to be for anyone interested in the sport, regardless of skill level.
Be sure to check out an outdoor terrace at one of the small cafes and cozy restaurants on the west side of the beach, a current hot spot for food photography on social media.
- How to get there: Get off at Jangsan Station (Metro line 2) and go out exit 5 or 7. Take bus No. 185, get off at the KT Songjeong Tower bus stop and walk toward the beach. Or get off at Centum City Station and go out exit 2. Take bus Nos. 38, 39, 40, 63, 100, 100-1, 139, 141, 181, 182 or 200 and get off at the Songjeong Beach entrance stop.
Songdo​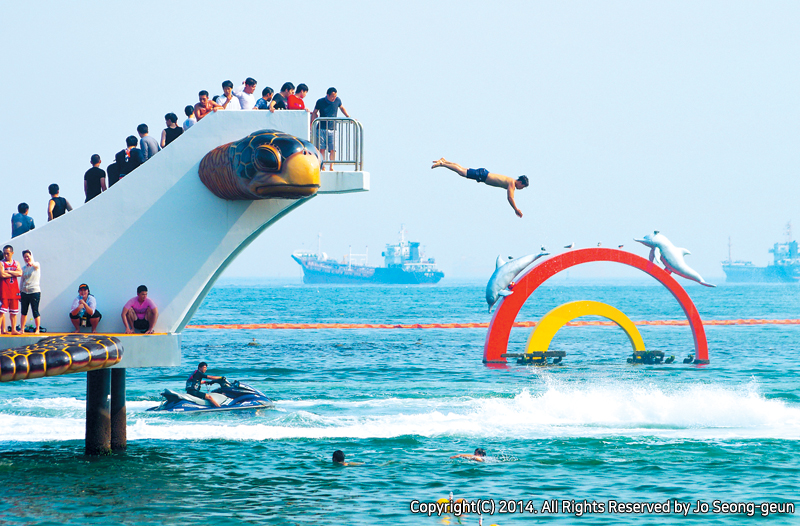 Busan's first public beach is also home to the country's longest skywalk, a symbol of the beach's incredible transformation over the years. Songdo Beach opened in 1913. Several installations have since been erected at the beach, with some having been recently refurbished.
In addition to a 365-meter, glass-bottomed skywalk from the beach to Turtle Island, a whale-shaped lighthouse was constructed in the middle of the bay, along with a diving board and an artificial waterfall.
As many as 7 million people visited the beach last year, recording the third-highest numbers in Busan following Haeundae and Gwangalli.
A maritime leisure town and cable car service are slated for completion next year. An auto camping site is also due to open up next April, while the cable car that once traversed the area in the '80s will be restored to its former glory. The car will resume service between Amnam Park and Songrim Park.
- Don't miss: The Coastal Walkway, a 1.3-kilometer-long walkway from Songdo Beach to Amnam Park, straddling coastal cliffs, forests and the sea. The course follows the densely-wooded seaside, where hikers have the chance to cross the suspension bridge or take a break next to geological faults.
- How to get there: ​ Take bus Nos. 7, 9, 26, 30, 71 or 96 and get off at Songdo Beach.
Dadaepo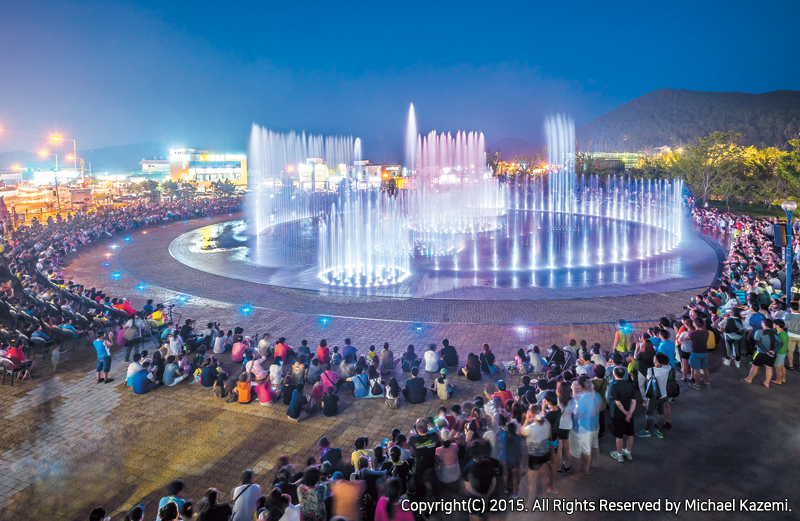 Though celebrated for its rich sunsets, Dadaepo is also a great place to visit while the sun is high in the sky.
The beach lives up to its name, meaning "large and wide port," with shallow water at the mouth of the Nakdonggang River a draw for families with children. Beautiful sunsets, visible from Saha Sunset Road, and large-scale sculptures, installed at last year's Sea Art Festival, only up Dadaepo's appeal.
More than a thousand visitors gather nightly on the beach to watch columns of water projected from the world's largest ground fountain. Cool off wat-ching the water rise and fall to pop and classical melodies at the Sunset Fountain of Dreams or jump right in following the show.
There is still more to enjoy at the beach, including a mudflat for catching conch and crab and water sports such as kiteboarding, wind- surfing and sailing.
- Don't miss: ​ Kiteboarding, an amalgam of paragliding and wakeboarding. The extreme sport sees a large kite used to propel a wake boarder. With consistent winds and a broad, sandy beach, Dadaepo is ideal for kiteboarding. Beginner courses are regularly offered. Find out more at 051-207-3700.
- How to get there: ​Take Metro Line No. 1 and get off at Sinpyeong Station, then take bus Nos. 2, 11, 338 or 1000 bound for Dadaepo Beach at the bus stop near exit 4 of the station.
Ilgwang and Imrang​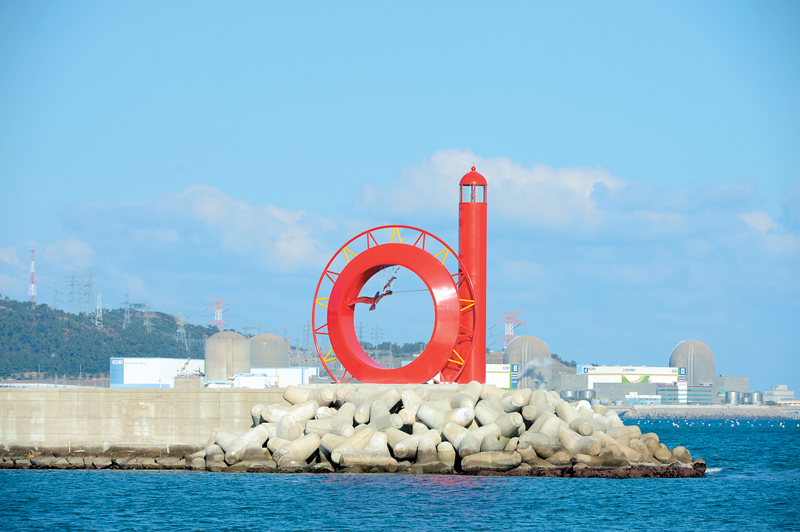 The calm, shallow waters of Ilgwang and Imrang beaches in Gijang-gun are perfect for families. A nearby fishing village and gentle waves provide serenity and an easy getaway from a bustling city life.
Ilgwang Beach on the southeastern coast has a semicircular shoreline with beautiful sands. Both ends of the horizon are visible from the pocket beach, with pine forests and raw fish restaurants decorating the shoreline. Ilgwang is now well-known as the location of the film Gaetmaeul (seaside village). Madanggeuk (open-air theatre) festivals also take place at Ilgwang each August.
Imrang, between Busan and Ulsan is a small beach with a pine forest and fine sands. Crystalline water from a valley stream flows to the ocean through Imrang, a little patch of heaven on the edge of town.
- How to get there: ​ For Ilgwang Beach, get off at Jangsan Station and go out exit 7. Take No. 182 to the Ilgwang Beach bus stop.
For Imrang Beach, get off at Jangsan Station and go out exit 9. Take bus No. 139 to the Cheonggang Sageori Intersection stop. Transfer to bus No. 188 and get off at the Imrang Samgeori Intersection bus stop. When leaving Seomyeon or Busan Station, transfer to Metro line 4 at Dongnae Station, get off at Anpyeong Station and go out exit 4. Take bus No. 188 at the Anpyeonggochon bus stop and get off at the Imrang Samgeori Intersection bus stop.